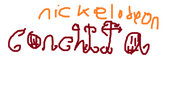 The Morbid world of Conchita
is an American animated series produced by Nickelodeon Animation Studio for Nickelodeon.The series premiered on January 18, 2015 and will premiere March 30, 2015 on Nickelodeon.The show was created by
Sandra Equihua and
Jorge R. Gutierrez
(
CalArts
alumni, and former character designers for
The Buzz on Maggie
and
El Tigre
), who is the second woman to create an animated series for Nickelodeon Animation Studio (the first being Amy Poehler, who created
The Mighty B
), and also the first woman to create a Nickelodeon series.
The series depicts a ghost baby girl from the positive side of the afterlife called Mundo De Los Espiritus named Conchita who is sent to Earth by a skeleton boatman and ends up at the home of the Sanchez Family in the town of Spirit Creek a.k.a The Human World.Conchita often finds herself in predicaments due to her perpetual black pacifer and her red hat.
Characters
Edit
Ad blocker interference detected!
Wikia is a free-to-use site that makes money from advertising. We have a modified experience for viewers using ad blockers

Wikia is not accessible if you've made further modifications. Remove the custom ad blocker rule(s) and the page will load as expected.