Sunny Side Mansion is the opposite house as
Ramierez Mansion
.It is beautiful and clean while Ramierez Mansion is scary and haunted by ghosts.the children were unfriendly.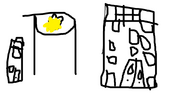 Appearance
Edit
it shows a luxurious, modern beach liner on a calm open ocean and clear blue skies bathed in beautiful sunlight. In the distance is a virgin mary statue holding a baby, and tall palm trees in foreground.Inside,the children has rooms with virgin mary statues.
Ad blocker interference detected!
Wikia is a free-to-use site that makes money from advertising. We have a modified experience for viewers using ad blockers

Wikia is not accessible if you've made further modifications. Remove the custom ad blocker rule(s) and the page will load as expected.