Sandra Equihua
is a crew member who works on
Muglita(tv series)
. She is a character designer for
Muglita(tv series).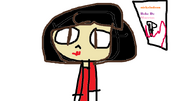 Biography
Edit
Born and raised in Tijuana, Mexico, Sandra received a BFA in Graphic Design in Tijuana, Mexico. While studying under illustrator Rafael Lopez at Art Center at Night in San Diego, she learned to conceptualize, experiment with technique, color and ideas, discovering her real passion was illustration. This expanded her artistic range and she moved to Los Angeles.She has worked with companies like Sony Pictures, McGraw Hill, WEA, Disney, WB, and Nickelodeon. Her original paintings have been shown in galleries both in Mexico and the United States. She designed characters for l Macho (Sony), Mucha Lucha (WB), The Buzz on Maggie (Disney) and Wow Wow Wubzy (Nick Jr.) Her work in the animation field includes illustration, character design and voice acting. She melds the influences of mid-century design and her own Mexican heritage. Equihua is married to illustrator Jorge R. Gutierrez and together they created the Nickelodeon series El Tigre: The Adventures of Manny Rivera. The show dealt with issues such as immigration, ambition, romance, success and defeat. Sandra Equihua won an Emmy Award for her character designs on El Tigre: The Adventures of Manny Rivera (Nickelodeon).She designed characters for Muglita(tv series).In November 2014, Sandra created the female characters and voices as Bebe De La Muerte from Bebe De Muertos.
Ad blocker interference detected!
Wikia is a free-to-use site that makes money from advertising. We have a modified experience for viewers using ad blockers

Wikia is not accessible if you've made further modifications. Remove the custom ad blocker rule(s) and the page will load as expected.