Rosita is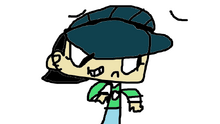 the popular girl at school, and is
Conchita
's rival.
Personality
Edit
She is constantly competing with Conchita for competions. She has her own posse (Lucia and Carmen) and a huge, conceited ego.Her major talents involve balancing objects, riding a unicycle, and reciting Shakespeare all at the same time.Rosita is hated by many people only because she kills a nice little girl, Conchita.
Appearance
Edit
Rosita has black hair, black eyes and light skin.She wears a blue newsboy cap,aquamarine shirt with a collar,light blue skirt,white socks,and gray shoes.
Ad blocker interference detected!
Wikia is a free-to-use site that makes money from advertising. We have a modified experience for viewers using ad blockers

Wikia is not accessible if you've made further modifications. Remove the custom ad blocker rule(s) and the page will load as expected.