Ramierez Mansion
, located at the outskirts of
Muerte Harbor
.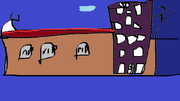 Appearance
Edit
it shows a ghostly pirate ship on an bloody ocean, a pale full moon, tombstones, raging thunderstorms and fierce lightnings in the distance with a mexican skeletal version of virgin mary statue holding a scythe and dead trees in the foreground.
Living Room: This is where the muerte gang hang out together.
Kitchen: Equipped with a couple tables, chairs, microwave and fridge/freezer combo.
Bathrooms: The Muerte Gang have 3 bathrooms with each having; a sink, toilet and a shower.
Muerte Gang's Rooms
Edit
Ramon's Room: Ramon's bedroom is a training room/gym combo, it has the typical bed and closet with punching bags and targets.
Carlos and Bebe's Room: Carlos and Bebe live in the same room, so it is very big. On Bebe's side of the room, it is scary and gothic with purple walls and burgundy carpet with a purple bed, a yellow lamp and black lamp and gothic portraits. On Carlos' side of the room, it is slightly messy and is bright blue with British curtains, a red bed, a red beanbag chair and grey locker dressers.
Kayla's Room: Kayla's room is very a girly feel to it.it has a make up mirror, ribbons, trophies and a Brazil flag.
Marina's Room:Marina's room with a very dark gothic feel to it. It is decorated with chains, spiderwebs and skulls.
Jorge's Room: a personal computer, TV, and other musical instruments, has a purple bed with a ornate headboard and a display case full of trophies, sleeps on a coffin.