Lucia and Carmen
are two beautiful blond Hispanic twin girls on
The Morbid world of Conchita
.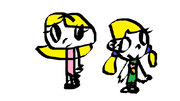 Appearance
Edit
As they are twins, Lucia and Carmen look almost exactly alike other then minor details. Both twins have fair skin and blue eyes with what seems to be just a bit of eyeshadow and light lipstick. The twins' most common attire consists of school oriented uniforms.
The twins are often seen sporting punk/gothic symbols and designs within their own outfits and accessories, such as the studded leather bracelets, dog collar necklaces, studded belts, and Lucia and Carmen wears a white shirt,black sweater with a skull,grey skirt,white socks, and black shoes in The Girl who was Abused.
Hair:
Lucia has blonde hair with a black headband.
Carmen wears her blonde hair with blue scrunchies.
Tops:
Lucia wears a dark pink jacket with purple at the neck and cuffs. A small icon is on the chest, matching the black tie worn with the white undershirt.
Carmen wears a mauve top with lighter pink cuffs and neck, along with an icon on the chest matching her tie and white undershirt.
Skirts:
Lucia's skirt is dark pink.
Carmen's skirt is light pink.
Footwear:
Lucia wears below the knee dark pink socks and lighter pink shoes.
Carmen does not wear socks like her sister, instead she wears dark pink leggings and almost-black shoes.
Personality
Edit
Coming from a rich family the twins are naturally spoiled.Although it is worth mentioning that while the twins are very similar, they also do have some differences. Lucia seems to be the smarter of the two and she also seems to actually enjoy Conchita's company and only acts like she can't stand her because Carmen strongly dislikes her (Coach Conchita). Meanwhile, Carmen has a "spacey" train of thought and doesn't like Lucia at all, which would indicate that she's actually the dominate twin.
Lucia was voiced by Kari Wahlgren, while Carmen was voiced by Jessica DiCicco.