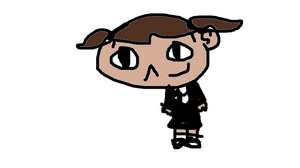 Kayla Moore
Biographical Information
Education & Employment
Physical Description
Personality
Relationships
Character Information
Relevant Pages
GALLERY
Kayla Moore is one of the main characters from Bebe De Muertos.
Personality
Edit
Kayla is described as being as sweet. Sunny, out-going, and humorously photogenic, Kayla loves to takes part in beauty pageants or grab her friends for a group photo whenever she goes places or experiences something interesting; luckily, she loves life and seems to find most things interesting. Eternally optimistic and bright, Kayla is the team member who keeps everyone smiling, and her sympathy towards other people's issues can help relieve moments of fear or tension within the group.While her silly quirks and clothing may lead people to believe otherwise,Kayla is tremendously intelligent, attending the most prestigious elementary school in Muerte Harbor.
Appearance
Edit
Kayla is a naturally beautiful young girl with tanned skin, black eyes and long chocolate brown hair in pigtails.Kayla changes her clothing on a daily basis. Her clothing generally consists of 60s and early 70s style clothing, many of which are in various shades of pink or salmon.She also often wears various pairs of large platform heels and often wears 60s style scrunchies.
While meeting Jorge for the first time, Kayla is wearing a large white peter-pan collared sweater with a pink ribbon and a scrunchie in the same color. She wears a red and pink horizontal-striped skirt and pink polka-dotted sheer leggings.
At the funeral for Poco Limon, Kayla wears a black, long-sleeved dress with a belt and a white peter pan collar, with black stockings and her hair up in a modest bun.
Ad blocker interference detected!
Wikia is a free-to-use site that makes money from advertising. We have a modified experience for viewers using ad blockers

Wikia is not accessible if you've made further modifications. Remove the custom ad blocker rule(s) and the page will load as expected.