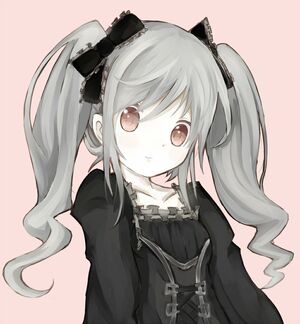 Carmela Evans
Biographical Information
Education & Employment
Physical Description
Personality
Relationships
Character Information
Relevant Pages
GALLERY
Carmela Elizabeth Evans is the main protagonist of Carmela El Pueno Bebe Muerto Lindo. She is voiced by Genesis Ochoa.
Character
Edit
Appearance
In Life
She had brown hair, brown eyes, and light skin-tone.
After Death
Edit
She has long grey hair, styled in pigtails, reddish-brown eyes and pale white skin.
Personality
Edit
Carmela is energetic and friendly. She loves having fun, and she usually has an optimistic outlook on life. Also, she loves to help others. Whenever she sees that someone is upset, she does her best to cheer them up. She is a bit meek, as she enjoys ballet and doing tomboyish stuff.
Ad blocker interference detected!
Wikia is a free-to-use site that makes money from advertising. We have a modified experience for viewers using ad blockers

Wikia is not accessible if you've made further modifications. Remove the custom ad blocker rule(s) and the page will load as expected.